Friday 29th, Saturday 30th and Sunday 31st October 2021
SOLD OUT!
Legend of the Lakes Hillclimb 2021 entries are at capacity!
FOR FURTHER INFORMATION, PLEASE CONTACT CLERK OF COURSE
Kevin Raedel
kevmic@outlook.com
0475 062 717
There are STRICT ENTRY REQUIREMENTS and it is CRITICAL that you read the entire Supplementary Regulations

AND

Online Entry Instructions documents

BEFORE

you enter into this competition.
We have provisions for up to only 4 crew per driver.
Due to COVID-19 restrictions, there will be LIMITED SPECTATORS at this year's event!
Please visit https://www.motorsport.org.au/covid-19 to download your copy of Motorsport Australia's "RETURN TO RACE" Guidelines.
SUPPLEMENTARY REGULATIONS
Email: info@seacsa.com
Post: SEAC, PO Box 1551, Mount Gambier, SA, 5290
Please Note:
Only Online Entries will be accepted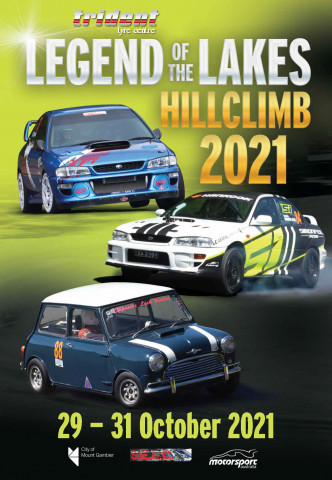 For what to see and do in and around Mount Gambier while you are here, the City of Mount Gambier websites are a wealth of information
www.discovermountgambier.com.au
Or visit the Lady Nelson Discovery Centre - Jubilee Highway East, Mount Gambier